Contact Us


24/7 Fire Protection Services, Inc
12540 E. Slauson Avenue, Unit C
Santa Fe Springs, CA 90670
Company Profile
In 2002, 24/7 Fire Protection Services, Inc. was established to meet the fire protection needs of commercial, industrial, and government facilities.
Today, we are one of the most respected independent fire protection systems specialists in Southern California. Indeed, the more challenging the job, the more developers, planners, architects, and property owners look to us for performance-effective solutions in both new installations and retrofits-from small tenant build-outs to complex multi-million dollar projects.
We know our legacy of providing professional service has made us a preferred resource for building owners and property management groups throughout the region.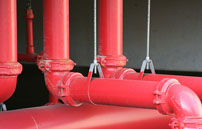 But we also know that our personal approach and can-do attitude-with both management and labor-have secured our reputation far more than service alone ever could.
It is this reputation that has made 24/7 Fire Protection Services, Inc. the fire protection systems professionals of choice-from our first client to the dozens of major organizations we continue to serve.
For more information contact us online or by phone at 562-698-3830